The CodeSquad story
The CodeSquad story
Building a new pipeline of technology talent

We see two challenges
CodeSquad was created to address two challenges: the need for good jobs and the need for good programmers. The need for good jobs is well-established, with a recent report telling us that half of Boston lives on less than $35,000 per year, and unemployment is stuck around 12% in neighborhoods like Roxbury, Dorchester and Mattapan, despite improvements in the wider economy.
But there is another problem: companies around Boston, and across the United States, need more programmers. In an influential 2011 Wall Street Journal editorial, Netscape's Marc Andreessen said "software is eating the world." More and more businesses are being run on software and delivered as online services, from movies to agriculture to national defense. And as businesses use more and more software, they need more and more programmers to write, test and maintain those applications.
But they are running out of talent. A July 2017 report from Skill-Works and The Boston Foundation found that in Greater Boston, for every 17 job openings in IT, there was only 1 qualified applicant. Not just technology companies, but health care providers, manufacturers and financial services firms are all desperate for more software talent.
CodeSquad seeks to balance this equation by providing full-stack web development training to talented adults from low-income families in Greater Boston, and work to place them in software internships.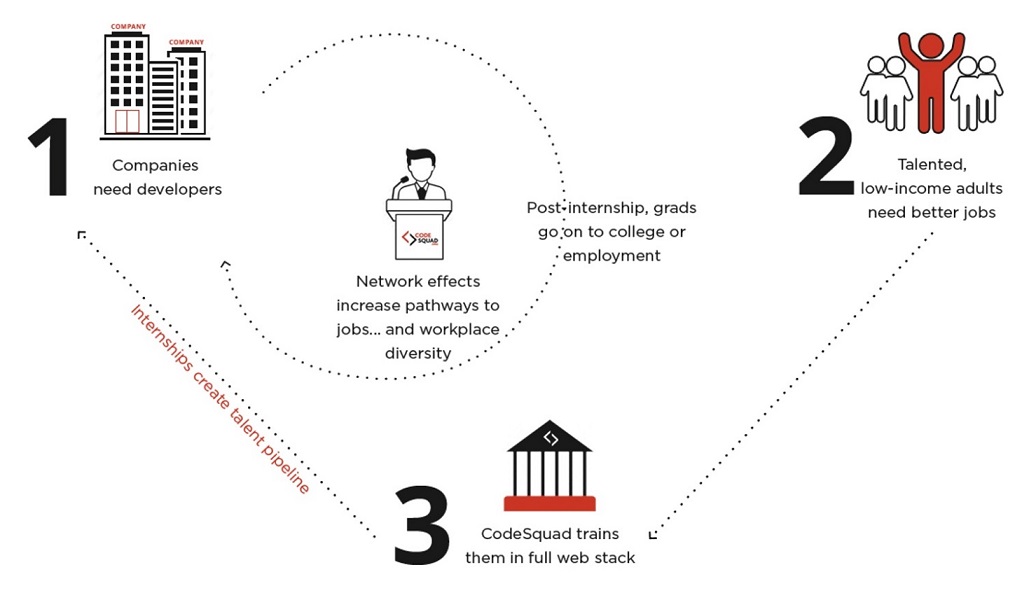 Board of Directors
Technical Advisors
Ben Livermore
Ben has been a software engineer for 15 years, and has led teams of web developers for large 5000-person corporations and for tiny four-person startups. He has his master's in education from Harvard Graduate School of Education and has taught classes on test-driven development, pair programming, Agile management and best practices in web development.
Jonathan Schwartz
Jonathan is a business-minded web application and database architect with over 17 years experience building customer-facing, cloud-based solutions. With a background in email marketing technology, Jonathan has spent the last 8 years contributing to the e-commerce world where he implements advanced integrations across all areas of the Shopify platform. (...)
A registered Shopify expert through his personal consulting company, JAS Technology, Jonathan works alongside a variety of small businesses as their technology partner. Jonathan received a BA in Computer Science from Hamilton College... and jumped into the industry 72 hours later!